Welcome!
In this three-part course, Kari Tauring will share stories, songs, and scholarship gathered over thirty years about the oldest known Futhark (named so for the first six runes) of proto-Germanic heritage. In around 400 ACE, 24 rune letters were etched on the Kylver stone discovered in Stånga on the Swedish island of Gotland in 1903 and called the Elder Futhark. Runic inscriptions dating to 160 ACE have been found and deciphered. Runes and runic poetry are mentioned in the Eddas and Sagas. Elder and Younger runes were memorialized in four medieval poems by Germanic, Norwegian, Icelandic, and Anglo-Saxon writers. Their names and meanings still live within the language still used in Iceland, Norway, Scotland, and other connected languages. And they have been mis-used and appropriated to promote ideologies that fly in the face of the cultural lessons they impart.
What makes this class different than other rune studies is how Kari weaves in the stories and songs of her own family and culture of origin. Deep scholarship and the lived experience of her Norwegian American upbringing combine in a wonderfully entertaining and highly accessible way. New comers to the runes will not feel so overwhelmed. Long time students will appreciate the broad cultural swathe that Kari encompasses.
The goal is to help you build a relationship with each rune and appreciate their relationship to one another and the cultures that preserved them. For example, the first rune is FEHU. The cow was part of the European landscape before Northern Europe was even freed from the ice. Our Ice Age, Bronze Age, Iron Age, and Agricultural ancestors - even modern 21st. Century Nordics, have a deep and meaningful relationship to the Cow.
Bison, Birch Trees, Ice, Lakes, and the very Sun have runes that represent them. Join Kari as she shares their quintessentially Nordic lessons from her home in the Northland of Minneapolis, Minnesota.
What this Course Includes:
Over 6 hours of original video lecture content featuring nordic roots educator Kari Tauring.
24+ original infographics.
PDF copy of Runes: A Deeper Journey by Kari Tauring.
Regular teacher support and feedback.
Journal prompts and exercises.
Certificate of Completion
Students will have access to a video series outlining each of the described course concepts, with helpful visual and text tools. The course has been broken down into three installments. Each installment includes a number of videos and visual tools, the breakdown for which can be viewed in the course curriculum. Students will be prompted to journal and complete homework exercises intended to support their adoption of these new tools. Students will receive a .pdf copy of Kari Tauring's book 'The Runes: A Deeper Journey' and an opportunity to purchase a signed physical copy.
Your Instructor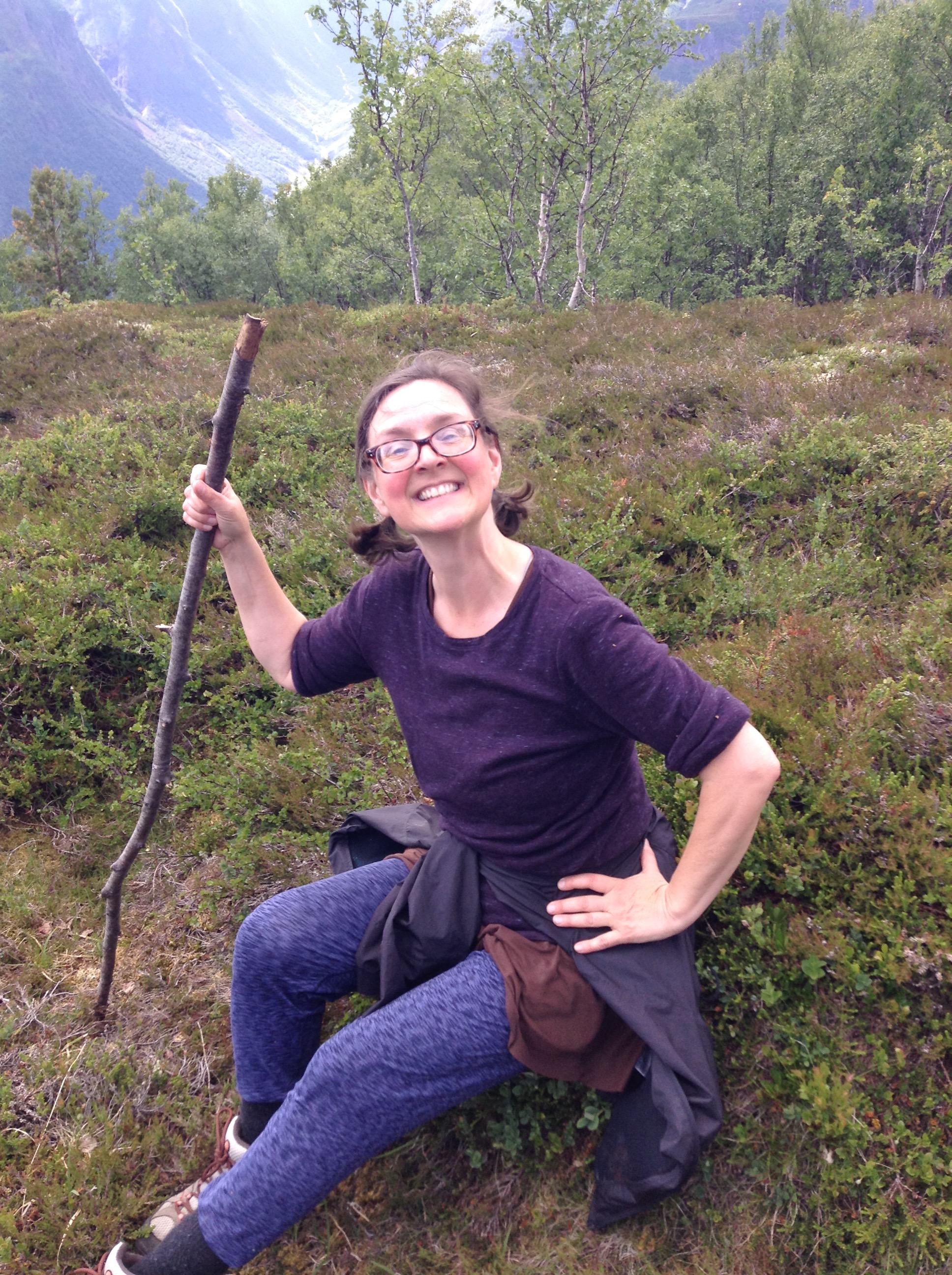 Kari Tauring is a Nordic folk musician, cultural educator, and spiritual leader living in Minneapolis, Minnesota, USA.
Kari was born to a Norwegian-identified family in Minnesota with summers spent with extended family on their heritage farm in Wisconsin. She has performed her original folk music in the Twin Cities and around the Midwest from the early 1990's.
Formal Degrees
Bachelor of Arts Philosophy and English, University of St. Thomas, St. Paul – 1989
Master of Arts Education, University of St. Thomas, St. Paul – 1996
Ordained – Church of Spiritual Humanism, September 2007
Runes and Old Norse poetry
Kari began studying the Elder Futhark runes and Norse mythological poetry as an undergraduate at the University of St. Thomas in 1989. Plunging her identity as a Norwegian American into a time before lefse and coffee was life changing! This self study informed her artistic life in the most profound way in 2003 when she began reconstructing the ways of the völva or staff carrying women of her heritage.
A völva – staff carrying woman in Old Norse language, Kari "carries the staff" of Old Norse history and tradition for her family of origin, greater community in Minnesota, and the folk art community that sustains her work. As an artist, Kari combines her deep scholarship and immersion in the traditional folk music and dance community to create new interpretations of what it means to be Nordic.
Volva Stav is Kari's original Nordic spiritual system which teaches aligning the body with the cosmic world tree through the use of staff rhythm for journey and rune expression. Her Volva Stav Manual (2010) is available as a free download along accompanying videos on Youtube. She has many students across the United States and Scandinavia. The Völva Stav Guild is a group of eight women who use this methodology in their personal, professional, and community practices in Minnesota and Wisconsin.
Tauring published her first rune book in 2007 and replaced it in 2016 with "The Runes: A Deeper Journey." It is available as an iPhone App, a full teaching tool you can hear Kari sing the runes in their various pronunciations and access full chapters of her book.
Folk Music and Dance immersion has yielded four Nordic root recordings and countless performances with videos of past performances available on Youtube. Kari began studying traditional folk music and dance in 2006 and received a FY2011 Folk and Traditional Arts grant for the study of rune shapes and postures within traditional Norwegian dance. She established Nordic Roots Dance with Carol Sersland the same year. She continues to dance with the active groups in the Twin Cities and teaches a monthly dance session for beginners.
Alt for Norge (Season One, 2010 tvnorge.no)
Kari brought her unique brand of staff carrying Norwegian Minnesotan to Norway in Season One of Norway's favorite reality show, Alt for Norge (everything for Norway). Fans called her kjæreKari med staven or dear Kari with the staff. Her rendition of the popular old song, "Kjærringe med staven" (honored lady with a staff) was used in advertising for subsequent seasons. Kari presents on Alt for Norge experiences to Norwegian culture groups throughout the US.
"This is really good, I will be using this and teach my family members this process."
"There is a lot of good info in the links. I'm really glad I slowed down and read the article on the Horn and Blots. Thanks for the depth!"
"I opened the new lesson and listened to the intro and the first 30min session. I paused it to do laundry and I was smiling with this elation!"
Frequently Asked Questions
When does the course start and finish?
The course starts on 12/26/19 and the final installment is released on 1/23/20. If this timeline does not work, reach out! We plan to release the course after the first run for rolling admissions.
How long do I have access to the course?
How does lifetime access sound? After enrolling, you have unlimited access to this course for as long as you like - across any and all devices you own. However, to get the best interactive engagement with the teacher, we recommend following the dates in the course curriculum.
What if I am unhappy with the course?
We would never want you to be unhappy! If you are unsatisfied with your purchase, contact us in the first 7 days and we will give you a full refund.
Course Curriculum
ÆTT ONE
Available in days
days after you enroll
ÆTT TWO
Available in days
days after you enroll